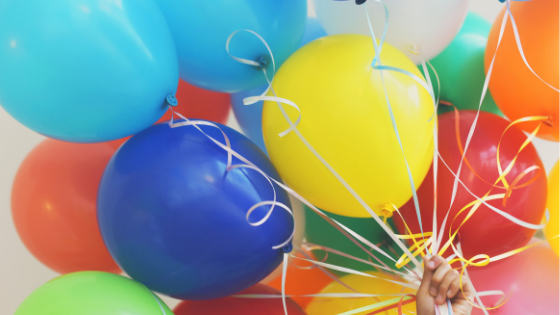 How to build the perfect party bag for your themed kids party
Party bags are the highlight of the party for most children, and there's no doubt you'll want to pick a theme all the kids will love! Expensive party bags are a thing of the past. It's now easier than ever to put together the ultimate kid's party bag without spending a fortune.
Whatever your child and their friends are into, we're almost certain you'll find a theme below that the kids will love! We've even suggested a few of our favourite mini toys to fit each theme. You could even mix and match so there's something for everyone in the party bag! Take a look.
1. For those wishing for superpowers
We're sure they'd love the gift of superpowers for their birthday, but superhero party bags come a pretty close second! Power-up their party with some of our favourite superhero party bag fillers, featuring heroes and villains from both the Marvel and DC universes.  
Batman story cubes: make your own story game
If they're strictly on the DC side of the superhero universe debate, or they just love Batman (who doesn't?!), the kids at the party will have hours of fun with these Batman story cubes. Every party bag should be equipped with a game, and they'll love the surprise element of this one!
Marvel Ultimate Spider-Man pencil case
The best-themed party bags are full of goodies the kids can take away and use again, so why not throw a pencil case in there? Our Ultimate Spider-Man barrel pencil case has been a hit with Spider-Man fans across the country, and we're sure the kids at your party will love it, too!
Marvel Avengers drinks bottle
With the hype around the final Avengers film still going strong, the little superheroes will love this Marvel Avengers aluminium drinks bottle - featuring all of their favourites from the Avengers films!
If you're looking for even more of a power-up for your themed party, take a look at our Spider-Man gift bag that could form the ultimate themed party bag.
2. For the animal lovers
Animals are one of the most popular party bag theme ideas as it's a gender-neutral theme that's likely to be a hit with all the kids at the party. From lions and tigers to monkeys and elephants, you really could bring the whole jungle to your kid's party. Take a look at our top animal party bag fillers.
Wild animals in a tube
Kids that love wild animals will adore these wild animals in a tube. The assorted tubes come packed with all sorts of creatures from the animal kingdom, from frogs and lizards to tigers and even dinosaurs!
Animal plush hats
What better way to top off your themed kids party than with plush animal hats? For just £1, we have dog plush hats, monkey plush hats and even elephant plush hats!
Animal shaped novelty erasers
To complete the animal party theme, add some animal shaped novelty erasers to your party bags. Each pack is complete with 4 randomly assorted animals (some mythical, some not), from penguins and pigs to pandas and unicorns!
3. For future princesses
Princess party bag fillers are easy to come by here at Toys for a Pound. We've got a huge selection of princess toys on our website, but here are some of our top picks for your kid's party.
My Princess beautiful beads
Help them feel like true princesses with our Princess beautiful beads. The compact, build-your-own jewellery pack will truly make them feel like royalty!
Princess makeup compact
Complete the look with this snazzy Princess compact makeup set - fit for only a true little princess! Why not make a game out of it and have the kids do each other's princess makeup?
Disney Frozen Elsa soft toy
That's right, you can pick up one of Frozen's most popular characters, Elsa, in plush toy form for only £2. This one is sure to be a hit with Frozen fans. Don't forget to add a Disney Princess gift bag, to store your Disney party bag fillers in, for just £1!
4. For Disney fanatics
That's right, we've got even more Disney goodies that would make amazing Disney party bag fillers.
Disney Cars erasers
These hard-shell, 3D erasers from Disney's hit 'Cars' can double up as toy cars the kids will love to play with! With Cruz, Jackson and Luigi models all available, they really are the perfect Disney party bag fillers for fans of the Cars films!
Disney Pixar Mr Incredible collectable figure
As part of the Pixar collectable range, featuring characters from Finding Nemo and Monsters Inc, Mr Incredible is a true collectable for any fans of the Incredible's films. Standing at 2 inches tall, he's a must-have party bag filler.
Disney Frozen water bottle
Kids can't get enough of Frozen, which makes this Frozen water bottle a complete bargain at just £1. Pair them up with the Avengers water bottles we mentioned earlier, and your party bags will have something for everyone.
5. For the kids that love mythical creatures
Unicorns are the latest trend to hit the shelves - and children can't get enough of them! Here are our favourite unicorn party bag fillers.
Squishy bead stretchy unicorn
A fun little toy that will complete any party bag, these squishy unicorns are great for younger children and older children alike.
Pug in unicorn costume plush toy
There's a new dog in town! Unicorns might be mythical creatures, but this 6-inch pug plush toy is much more realistic! For just £1, it'll be a hit with dog-lovers and unicorn fans alike.
Finding the right themed party bag
If you still can't decide on a theme for your kid's party, take a look at our party bags for a little inspiration. These themed party bags are great for storing party bag fillers in, and they could even give you a little theme-inspiration.
Better yet, try out our
Kids Toy Generator
. In just a few questions, the generator will select toys for your party based on the kid's gender, age, interests and hobbies! Give it a try.