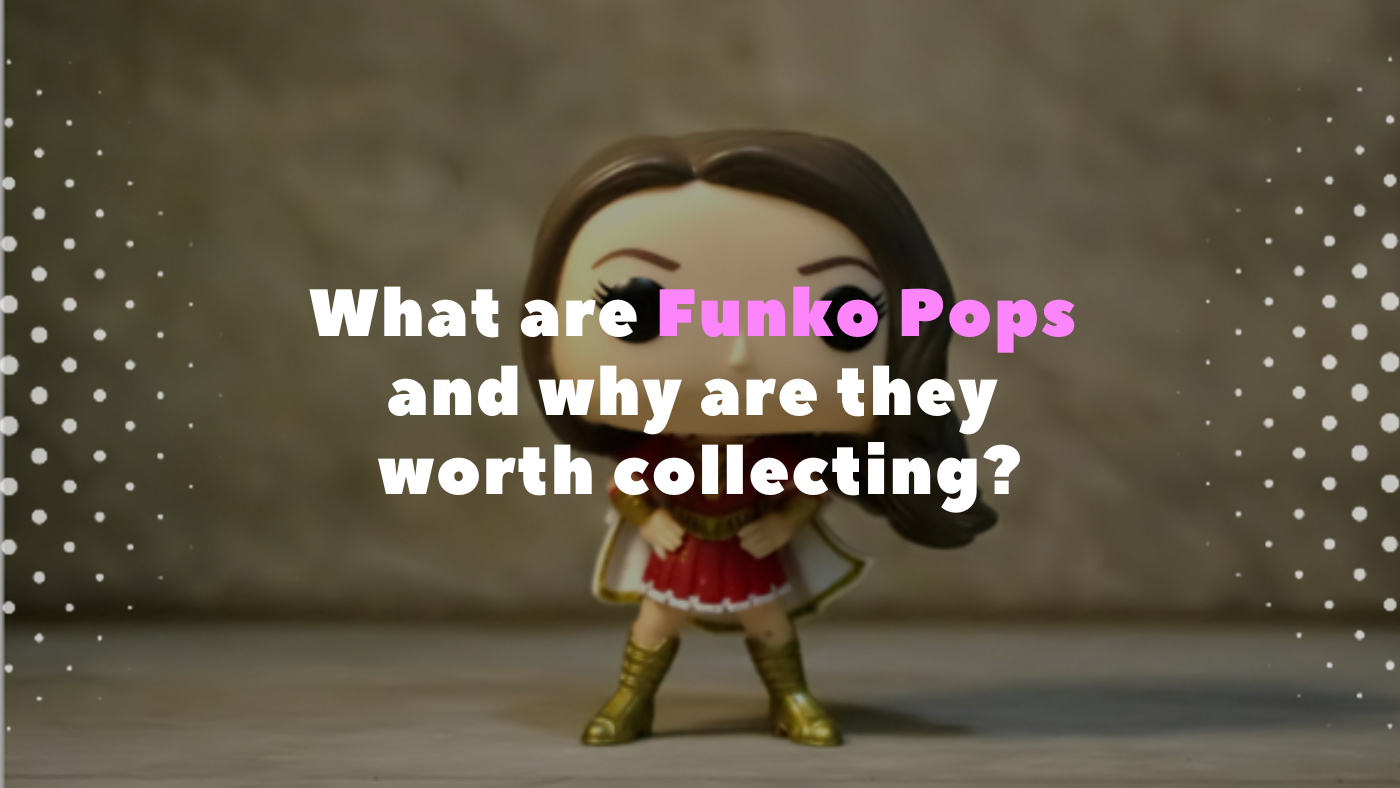 What are Funko Pops and why are they worth collecting?
Whether you're a gaming enthusiast, pop culture addict, or a dedicated movie buff, Funko POP figures are bound to be on your radar. If they're not, you're in for a treat.
These sought-after figurines are the most addictive collectables since Furbys, Beanie Babies and Pokemon cards, combining a unique and nostalgic experience with today's most popular franchise characters.
So, what are Funko POPs, and why are they so popular? Here, we've covered everything you need to know about Funko POP figures, from the rarest Funko releases to how these bobble-headed heroes and heroines have secured their spot in the heart of pop culture.
Table of contents
What are Funko POP figures?
What do Funko POPs do?
About Funko POP: A Brief History
How much are Funkos worth?
Funko POP lingo
What are the most popular Funkos?
What are the most rare funko POPs?
How many Funko POPs are there?
What was the first Funko POP?
How to get started with Funko POP
What are Funko POPs?
Funko POPs are small figurines renowned for their exaggerated features, including giant bobbleheads and oversized eyes. They depict popular characters from a wide range of leading franchises and genres, including DC Comics, Marvel, and Disney, alongside pop culture idols in various styles, poses and outfits.
With connections to a multitude of genres, Funko has a POP for every age and interest, whether it be comic book heroes and villains or niche horror and anime Funkos.
At Toys for a Pound, we offer an incredible selection of official Funko POP figures, and we consistently update our stock to offer the most sought-after releases, including Funko POP keyrings, card games, and even limited edition Funkos! So, whether you're searching for Marvel Funko characters to accompany your gaming desk or a Disney Funko to gift your friend, we're confident you'll find something for you.
What do Funko POPs do?
Like other collectables, you can enjoy your favourite Funko POP figures in several ways.
Some collectors like to display their POPs in their original packaging, preserving their condition in case they become more valuable. Meanwhile, others remove them from their boxes, creating vibrant displays of their favourite characters and recreating iconic scenes from throughout film history.
However you choose to display your Funkos, these charming figurines are guaranteed to add a fun pop of nostalgia to your environment and are a great way to showcase your hobbies and interests.
About Funko POP: A Brief History
Today, Funko POP figures are a worldwide phenomenon, but this was not always the case.
Toy collectors Mike Becker and Claudia Becker founded Funko in 1998, starting with a line of collectables named Wacky Wobblers.
Their first creation, The Big Boy Mascot bobblehead, saw 480 Wacky Wobblers produced. However, despite sales being a moderate success, Funko's first figurine did not bring the popularity Becker hoped for.
But Funko's luck was about to change.
In 2002, the Austin Powers bobbleheads were released, with Becker securing a licence for the Austin Powers: International Man of Mystery sequel. Over 100,000 of these toys were created – and they were a hit – seeing Funko firmly, and famously, put on the map and launched directly into the hearts of the public.
Funko POP owners
In 2005, Funko was sold to current CEO Brian Mariotti. In 2010, Funko officially debuted their popular vinyl line at San Diego Comic Con, bringing into play a whole new side to Funko with iconic franchise characters.
The company has since grown from strength to strength, forming partnerships with some of the world's biggest franchises, movies, and pop culture events!
Funko POP materials
Funko Pop figures are mostly made from vinyl. However, some Funko products are available in plush forms.
Some POPs, including exclusive and limited edition releases, look different to standard Funkos, including metallic paint finishes and glow-in-the-dark features. These Funkos are often rarer and more expensive than standard-release Funkos, so it can be difficult to add them to your collection.
How much are Funkos worth?
Funko POP figures vary in price, with common Funkos available for under £15 and the rarest releases raking in up to £100,000. 
Of course, the value of specific Funkos can go up or down at any time, but collecting rare designs and limited edition releases offers the best potential for high-value Funkos in the future!
How many Funko POPs are there?
There are approximately 8,366 Funko POP figures to date. However, the company is constantly expanding and releasing new models.
What are the most rare funko POPs?
If you're considering starting your own Funko POP collection, knowing the most popular Funkos is a great place to start. Below, we've covered the 3 rarest Funkos in the world right now.
The Stan Lee Superhero Platinum Metallic Funko – £14,685.30
Regarded as the superhero of pop culture, it comes as no surprise that pop culture idol Stan Lee has his own line of POP figures.
Various versions of the comic book writer, producer and publisher are available, including gold and silver Stan Lee Funkos. However, the rarest Stan Lee Funkos are the uniquely painted metallic gold and platinum versions.
With only 10 platinum figures produced, this Funko POP could be the rarest model in existence!
The Freddy Funko as Venom POP – £15,501.15
Released in 2019, the Freddy Funko Venom POP figure was only available as a Comic-Con exclusive and as part of the 2019 Funko event, Funko Freaky Tiki Fridays.
Only 24 of these Funko POPs exist, securing the model's rarity and status as a 'Grail' Funko for many collectors. Securing this Funko is no easy task – and the model has even been known to sell for up to £25,000 in recent years.
The Clockwork Orange POP – Over £20,000
In 2012, Funko sought to create a full line of Clockwork Orange POPs. However, due to a licensing complication, Clockwork Orange's parent company threatened Funko with legal action, so Funko's then-CEO, Mariotti, was ordered to destroy them.
Mariotti destroyed all but 24 of them, hand-signing and numbering each one. Of course, these models were never suitable for sale and were passed on to friends and Funko forum members.
Today, the Clockwork Orange POP figures, including the standard and glow-in-the-dark versions, are widely considered the most sought-after models ever made, and their value continues to grow every year!
Funko POP terms every collector should know
If you plan to start your own Funko POP collection, it's important to understand the Funko language. Below, we've covered the most important Funko terminology to be aware of.
EXC – EXC stands for exclusive and is often used to describe POPs that are made in limited runs, such as POPs released in batches at Comic Con events
Vaulted – A term used to describe when an item's production has ceased
Custom – Custom POPs are POPs that have been repainted or remodelled
Common – Standard POP models that are available to all customers
Prototype – A Funko product that is still in pre-production
New Mould – When a previously released Funko is revamped with a new mould, creating a new version. This can be a new outfit, pose, or feature the existing Funko model holding a different item!
Chase – Chase POPs are rare versions of standard Funkos. As the term suggests, collectors 'chase' after these rare editions!
L.E. – Limited Edition Funkos, released in limited runs
OOB – Out Of the Box, Funko POPs removed from their original packaging.
 Grail – Grail Funko's are different to every collector, with the term being a personal phrase used to describe each collector's most wanted Funko
How to get started with Funko POP
Looking to start your own Funko collection? Start today with Toys for a Pound. We stock official Funko POPs at great-value prices, including limited edition Funko pop figures, so we're confident we've got something for you!
If you need help figuring out where to start, choose a franchise you love and browse that collection's figures. Funko has partnered with hundreds of brands, so whether you're into comic books, movies, games, or pop culture, there's guaranteed Funkos to suit your interests.
Or, why not take a chance with Funko's Mystery Minis? Mysteriously wrapped in blind boxes, these miniature Funkos offer surprise characters and idols from the most beloved franchises today – What are you waiting for?!
Related Articles
Creating POP! The History of Funko