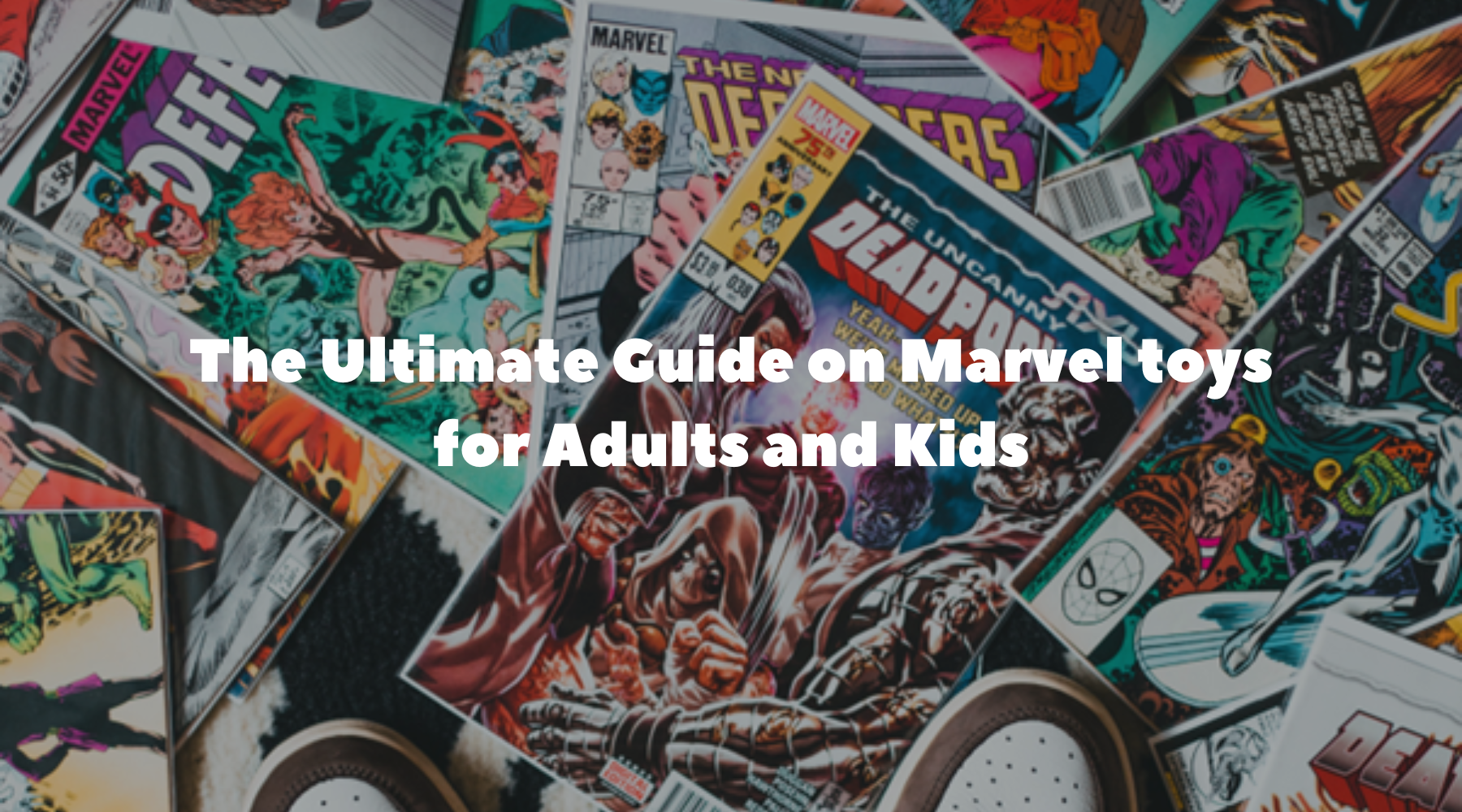 The Ultimate Guide on Marvel toys for Adults and Kids
From its intricate web of interconnected universes to an ever-expanding cast of multifaceted superheroes and villains, Marvel has it all. So, it's unsurprising that Marvel movies are amongst the biggest cinematic hits in superhero cinema.
Whether it's The Avengers, Iron Man or Black Widow, these movies consistently have viewers on the edge of their seats, rooting for justice while completely immersed in action, chaos, and harrowing events.
Like Marvel movies, Marvel toys are some of the most sought-after releases, which is why we stock Marvel toys for every age group. Here, we discuss all things Marvel, including our best Marvel toys for kids and adults. Whether you're a Marvel hero or supervillain fan, we're confident there's something for you!
Table of contents
When did Marvel start making toys?

What company makes Marvel toys?

Are there only 27 Marvel movies?

What should a Marvel fan collect?

Which Marvel character is the most popular?

Shop the best Marvel toys at Toys for a Pound
When did Marvel start making toys?
Though the first Marvel Comics appeared in 1939, Marvel toys were not introduced until the 1960s, with six Marvel Superhero action figures available to order directly from ads in the back of the comics. 
With every release, Marvel comics increased in popularity – and so did Marvel figurines. This led to Marvel merging with Toybiz in 2002, creating what is now considered the longest-running Marvel toy line in history. Producing high-quality figurines that were meticulously crafted to an exceptional standard, Toybiz and Marvel set the bar for all future action figures.
In 2006, Marvel Entertainment signed an agreement with Hasbro Inc, continuing the Marvel Legends toy line originally started by Toybiz. Hasbro continues to produce Marvel toys, figurines and collectables to this day, continuing its strong Marvel relationship while ensuring Marvel fans and collectors are spoiled for choice.
Gentle Giant Marvel Daredevil 10cm Animated Statue Collectible Figurine
What company makes Marvel toys?
Hasbro creates Marvel toys and has done so since 2006 when the company bought out Toybiz. 
Are there only 27 Marvel movies?
There are currently 31 Marvel movies, and with various others in several stages of development, the franchise shows no signs of slowing down!
Marvel releases their films in 'phases', consisting of movies linked together by the cast or plot points.
The next Marvel releases will be part of stage five, including The Marvels and Captain America: New World, to name a few. 
Marvel also has various releases in the pipeline for phase six, rumoured to include Deadpool 3 and many more Avengers adventures.
Beast Kingdom Marvel Spider-Man Miles Morales Mini Egg Attack Series Figure
What should a Marvel fan collect?
With so many Marvel toys to collect, choosing where to start can be difficult. Here, we cover 3 Marvel toy sets to help kickstart your collection!
Marvel Funko POPs 
With over 1,200 Funko POP Marvel figures to collect, Marvel Funko POPs are a fantastic way to indulge in all your Marvel toy needs. With Funko, you can find your favourite Marvel characters in various styles, poses and outfits, making them the perfect collectable for any age!
These small figurines are perhaps the most popular collectables since the nineties, featuring larger-than-life eyes and giant bobbleheads. 
Funko POP Marvel Hawkeye PX Previews Exclusive Vinyl Figure
At Toys for a Pound, we constantly update our Funko POP collection to include the most sought-after heroes and villains, including rare and limited edition Marvel Funko POPs. So, whether you're just starting your Marvel toy collection or looking for new ways to branch out, we're confident you'll find a POP Vinyl figure!
Spiderman Toys 
With nine movies, various video games, and numerous appearances in other films, Spiderman is considered one of the most popular Marvel characters ever – making Spiderman toys an excellent gift for any Marvel fan.
Marvel Spidey Amazing Friends Spiderman Scratch Art Poster Set
Our Spiderman toys collection includes everything from fun arts and crafts for kids to collectable figurines and Funko POP keychains. So, whether you're a young or old Peter Parker fan, we're confident you'll find new and exciting ways to enjoy Spiderman, your friendly neighbourhood hero.
Avengers Toys
With an impeccable cast of characters, including Captain America, Ironman, Thor and Black Widow, it would be impossible to list the best Marvel toys to collect without mentioning Avengers toys.
Marvel Avengers 9" Soft Plush Toy - Captain America
Whether Age of Ultron, Infinity War or End Game is your favourite, we're confident we have Avengers toys to meet your needs in our collection.
Which Marvel character is the most popular?
Starring in eleven Marvel films, Spiderman is undoubtedly the most popular Marvel hero, selling everything from comics and toys to video games and merchandise.
Spiderman toys, including action figures, plush toys and more, are consistently in demand. And, despite fans not always agreeing with Spiderman's plot points, The Amazing Spiderman is still Marvel's best-selling book.
Marvel Spider-Man & His Amazing Friends 30cm Soft Plush Toy - Spiderman Peter Parker
Shop the best Marvel toys at Toys for a Pound
Marvel toys are a fantastic way to indulge in your favourite superhero franchise, whether it's by collecting Marvel Funko POPs, Spiderman toys, or treating your little ones to Marvel toys for kids, including arts and crafts and plush toys!
At Toys for a Pound, we stock a fantastic range of superhero toys for all ages, including collectable figurines and action figures at great-value prices. We also consistently update our collections to offer fan-favourite characters – so keep checking back for yours!
Whether you're celebrating a new Marvel movie or expanding your collection, we're confident there's something for everyone.
Looking for more superhero toys at low prices? We also stock DC Comics toys! Shop our collections today and shop all your superhero needs at Toys for a Pound.
Related articles
What are Funko POPs and why are they worth collecting?