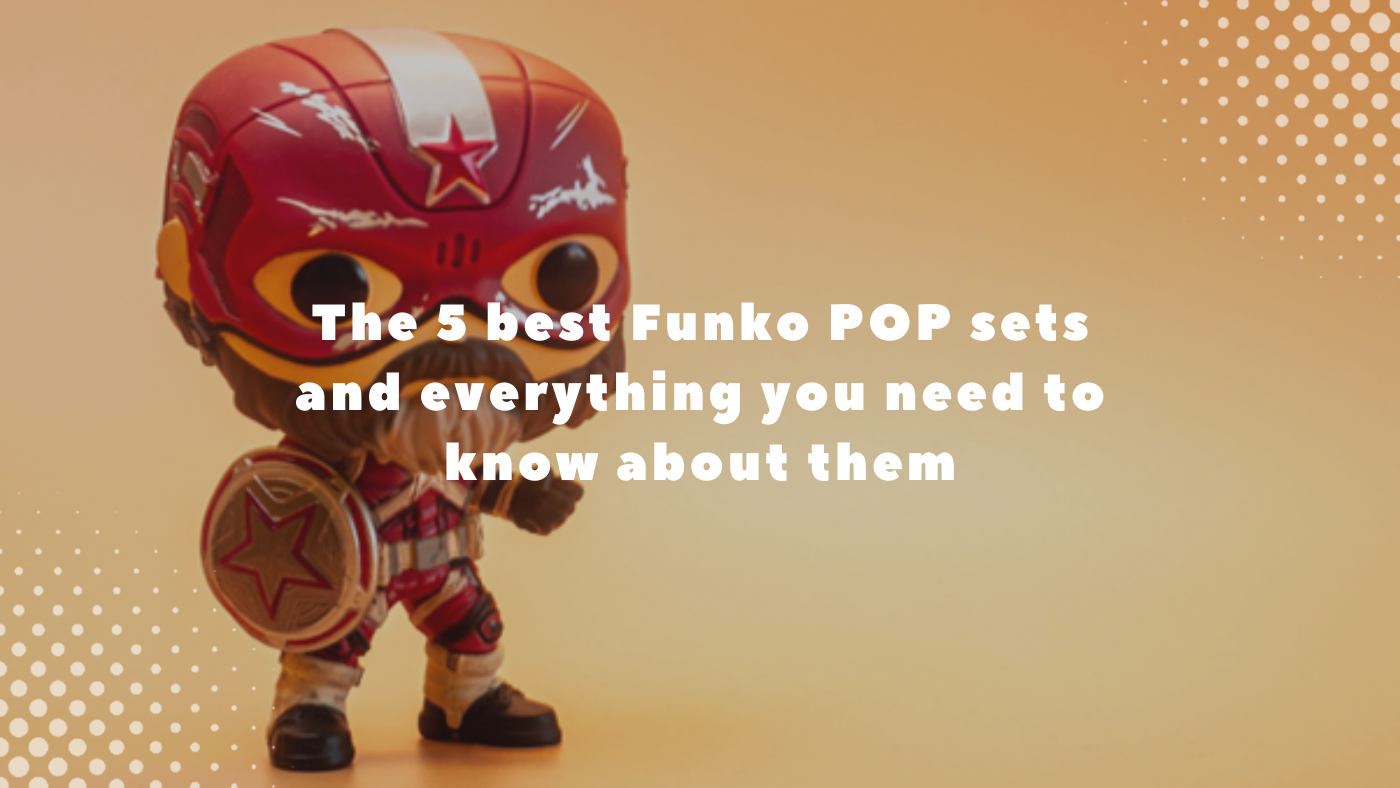 The 5 best Funko POP sets and everything you need to know about them
From pop culture icons to the latest box office hits, if there's a fandom, there's Funkos.
Funko creates POP vinyl figures for almost every franchise and interest, seeing collectors build animated collections based on their favourite movies, video games, and books.
However, with so many POPs to collect, knowing how to start or expand your Funko collection can be tricky. That's where Funko POP sets come in.
In this article, we've covered everything you need to know about Funko POP sets, including what they are and the best Funko POP sets to start collecting!

Table of contents
What are Funko POP sets?
The Funko Disney collection
Funko POP Frozen characters
The Funko Ghostbusters set
Harry Potter Funko POPs
The Marvel Funko POP collection
Shop Funko POP sets at Toys for a Pound
What are Funko POP sets?
Funko POP sets are series of POP vinyl figures that belong to the same movie, tv show, or group. Though part of the same series, these characters are often sold individually, leaving it up to the collector to build up each set.
There are hundreds of Funko POP sets to complete, covering categories and interests across various genres. At Toys for a Pound, we constantly update our Funko POP collection to offer the most sought-after figures from franchises you love, so you never know which gems you'll find!
Below we've covered some of the most popular Funko POP sets of all time, including a detailed breakdown of each one and why they're worth adding to your collection.
The Funko Disney Collection
When it comes to brands as big as Disney, it's no surprise that Funko has iconic vinyl figures to match.
With characters to suit every collector, Disney Funkos are one of the most popular lines of POPs. So, if you're a Disney fan, you can guarantee you'll find Funkos that match your interests, whether you love classic Disney characters such as Mickey Mouse and Goofy or the latest Disney heroes, villains and princesses.
How many Disney Funkos are there?
There are currently around 805 Disney Funkos in the complete Disney series. However, with every new Disney release comes more Funko characters, seeing the number of Disney Funko sets expand yearly!
Where to buy Disney Funko POPs?
You can buy Disney Funko POPs from reputable stores and Funko POP forums. However, some exclusive Disney Funkos are only available in person at Disney stores and parks.
You can also buy POPs from private sellers; however, it's important to research online sellers and sales to protect yourself from dupes. Luckily, our latest guide covers everything you need to know about fake Funkos and how to spot them!
What are the rarest Disney Funkos?
Below, we've listed the top 3 Disney Funkos and their estimated value.
Funko POP Disney Pixar Sulley
Specially created for San Diego's 2011 Comic Con, the Sulley Funko POP is one of the rarest Disney Funkos. It is a limited edition flocked Funko featuring luxurious fuzzy fibres that imitate the beloved Pixar character's thick blue fur. This POP was recently sold for £3,000. However, its value increases yearly!
Mickey Mouse (Blue and Red) Funko POP
It's hard to imagine the Disney brand without picturing its mascot, Mickey Mouse. This character has several variations to collect; however, the blue and red Mickey Mouse Funko POP is the rarest. It was released in 2012 for San Diego Comic-Con. However, only 18 were created, making this POP one of the most difficult Funkos to get your hands on!
Funko POP Disney Dumbo (Clown Edition)
Like Mickey Mouse, Funko has created various Dumbo POP figures, all considered rare. However, Clown Dumbo is the rarest, adorably painted in iconic circus makeup. Only 48 of the Dumbo Funko POP were created, and it has previously sold for over £6,000.
Funko POP Frozen characters
Disney's Frozen is an Oscar-winning film franchise with one of the largest fan bases and Funko POPs to match.
The Funko POP Frozen series contains several variations of Elsa, Anna and Olaf, including ultra-rare, flocked and glow-in-the-dark Funko POPs.
At Toys for a Pound, we're constantly updating our Frozen range to offer the most sought-after figurines. We also stock Frozen games and arts and crafts sets, perfect for gifting the Frozen fanatics in your life!
The Funko Ghostbusters set
Based on the first Ghostbusters movie, the Funko Ghostbusters set was released in 2014 to celebrate the franchise's 30th Anniversary.
The initial Ghostbusters POP series included the film's 3 main characters, Dr. Peter Venkman, Dr. Raymond Stantz, and Dr. Egon Spengler, alongside supporting characters such as the Stay Puft Marshmallow Man.
Since its initial release, the Funko Ghostbusters series has expanded, seeing additional variants such as glow-in-the-dark, slime-covered, and metallic Ghostbusters Funko POPs created. Funko also released more variations of the same characters in 2019 to celebrate Ghostbusters' 35th Anniversary.
Harry Potter Funko POPs
Since the release of the first Harry Potter book in 1998, the Harry Potter franchise has gripped fans worldwide, seeing Harry Potter films, books, games and more become legendary components to pop culture.
As fans love to collect emblems of their favourite franchises, it is no surprise that Harry Potter Funkos make our list of the best Funko POP sets.
Funko first partnered with the Harry Potter franchise in 2015. Since then, over 100 Harry Potter Funko POPs have been released, ranging from the title's main characters to detailed figurines of the Basilisk, Rita Skeeter, and Fawkes.
However, the rarest Harry Potter POP might not be what you expect. Though Harry, Ron and Hermione Funko POPs are widely popular with their wands, detailed Hogwarts uniforms and special characteristics, the most popular Potter POP is Luna Lovegood.
At Toys for a Pound, we're proud to offer a fantastic range of Harry Potter collectables, including Harry Potter figurines and play sets. We also update our Funko POP collection consistently, so if you can't see your favourite Potter POP yet, remember to keep checking back.
The Marvel Funko POP collection
With over 1,200 POP Vinyl Figures and counting, the Funko POP Marvel collection is one of the largest sets. It features a larger-than-life character list with multiple variations of fan-favourite Marvel heroes and villains, including chrome, flocked and glow-in-the-dark POPs, and expands with every Marvel film release.
What was the first Marvel Funko POP?
Funko first started creating Marvel Funko POPs in 2011, starting with the fan-favourite Asgard character, Thor. This POP was shortly followed by the creation of a Loki Funko POP, Thor's mischievous brother.
What is the rarest Marvel Funko POP?
The rarest Marvel Funko POP is the Stan Lee Platinum Metallic edition.
Stan Lee is the original Marvel Comics founder, so though he may not be a Marvel character, it's safe to say that the Marvel multiverse would not exist without him.
Only 10 Stan Lee Platinum Metallic POP units exist, each featuring Stan Lee's signature. This has cemented the POPs status as the rarest Marvel POP, seeing collectors sell it for up to £82,000!
Shop Funko POP sets at Toys for a Pound
Collecting Funkos can become addictive, especially when collecting Funko POP sets.
With several character variations, recreating your favourite casts and movie moments is a fantastic way to build up your collection. And who knows, maybe your Funko POP sets will be valuable someday!
At Toys for a Pound, we stock a fantastic selection of Funko POPs at great-value prices, and we consistently update our stock to offer sought-after Funkos, so we're confident you'll find something for you.
Looking for more ways to collect Funkos? Check out our range of Funko Mystery Minis for more exclusive POP creations to add to your collection!
Table of contents
What are Funko POPs and why are they worth collecting?
What are Funko Mystery Minis, and why are they so popular?