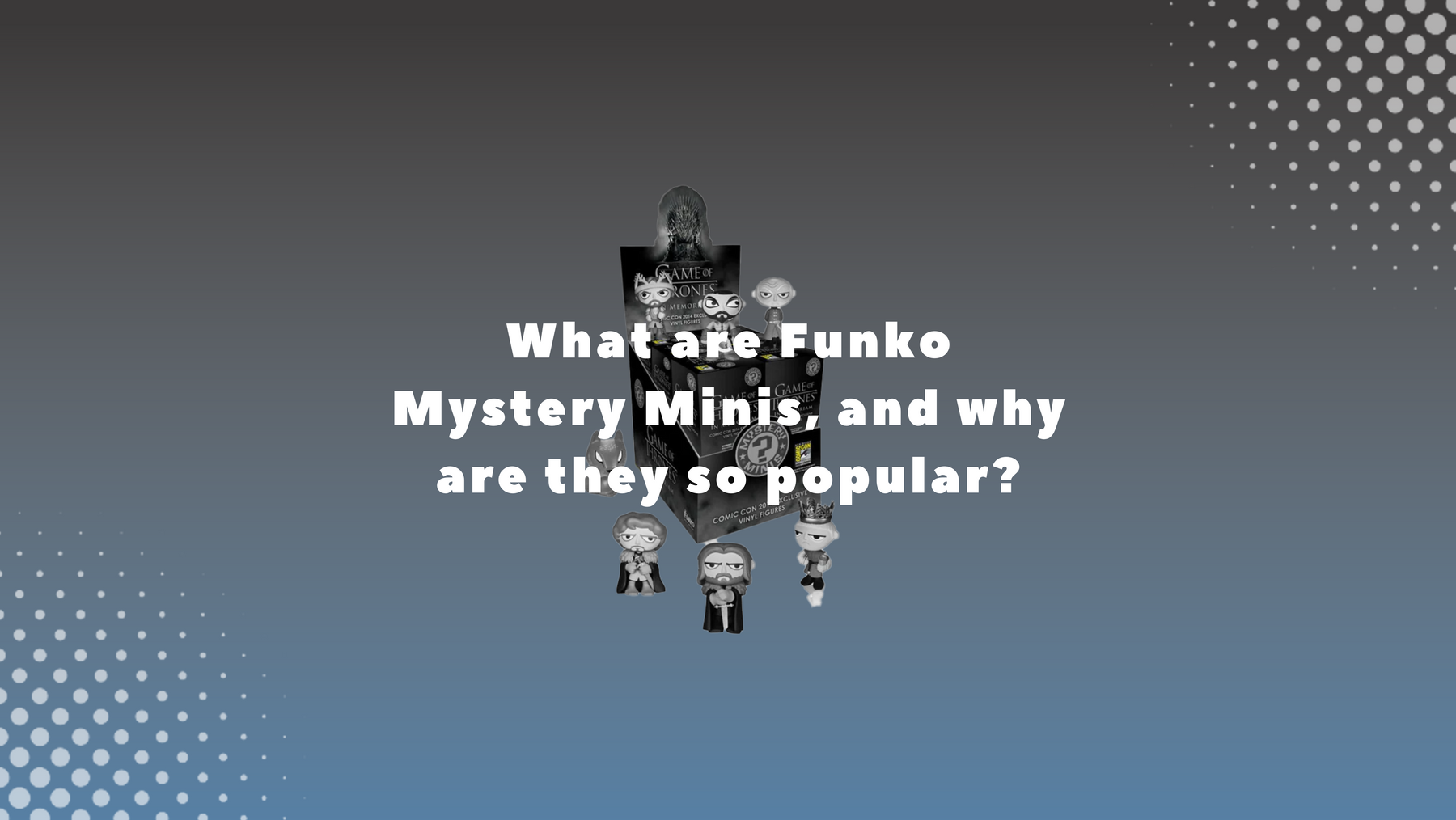 What are Funko Mystery Minis, and why are they so popular?
Small but mighty, Funko Mystery Minis are perhaps Funko's most addictive creations yet.
They are shrouded in mystery and bursting with entertainment, delectably packaged in mysterious blind boxes that offer collectors a fun-filled surprise upon reveal.
You're in good company if you're considering adding
Mini Funko POPs
to your collection.  That's why here at
Toys for a Pound
, we've covered the ins and outs of these fun-sized POP collectables, including how tall Mini Funko POPs are, why they're so popular, and how to start your own Mystery Mini collection!
What are Funko Mystery Minis, and why are they so popular?
Table of contents
What are Mini Funko POPs?
How big are Funko POP Mystery Minis?
How are Mystery Minis different from Funko POP figures?
How many Mystery Minis are there?
What are the Mini Funko POPs called?
Why are Mini Funkos so popular?
Which Funko POP is the rarest?
Start your Mini POP Collection with Toys for a Pound
So, what are Mini Funko Pops?
Great things come in small packages, and this is especially true with Mini Funko POPs. But what are Mystery Minis, and how are they different from official Funko POP figures?
What are Mystery Minis?
Funko's Mystery Minis are small vinyl figures depicting characters and idols from pop culture, including those from leading franchises such as
Disney
,
Marvel
,
Frozen
, and
DC Comics
. They were first released in 2014 and have continued to soar in popularity.
Each Funko Mini is packaged in a blind mystery box, so the collector does not know which character is inside until the big reveal. With this in mind, you never know which gem you'll get when shopping for Mystery Minis, making it especially exciting when you find the figure you were hoping for!
How big are Funko POP Mystery Minis?
Funko Mystery Minis are approximately 2.5 to 3 inches tall, making them larger than POP keyrings and POP buddies but smaller than standard POP Vinyl figures, POP Rides, and Jumbo POPs.
How are Mystery Minis different from Funko POP figures?
Moreover, Standard Funko POPs are packaged in unique, branded boxes, allowing collectors to display their POP characters without removing them from their boxes. Mystery Minis need to be completely unwrapped to reveal the character inside.
How many Mystery Minis are there?
There are hundreds of Mystery Minis to collect, with characters ranging from the most popular movies and comic books to leading franchises worldwide! So, whether you're an avid Disney fan or a gaming-obsessed collector, you'll easily find a collection to peak your interest.
Each Funko Mystery Mini collection contains 12 to 17 different collectable characters. Some collections contain rare figures, such as limited edition variations of previous figures and characters with different designs, outfits and glow-in-the-dark finishes.
What are the Mini Funko POPs called?
Mini Funko POPs are also called Mystery Minis, POP minis, and miniature Funkos.
Why are Mini Funkos so popular?
Mini Funko POP figures are popular with adults and children, allowing fans to celebrate their favourite franchise characters in adorable fun-sized forms. Moreover, their blind box packaging creates an addictive experience that collectors chase, especially when revealing a character they've wanted for a long time!
Which Funko Pop is the rarest?
Funko Mystery Minis might not be as rare as their vinyl POP siblings. However, that does not mean that they aren't as widely sought-after. Especially as Mystery Minis are random, making it harder to complete a collection!
Below, we've listed the five rarest Funko Mystery Minis on the market today, including the highest-selling POP mini to date!
The Rosita Mystery Mini
The Rositsa Mystery Mini is part of the Walking Dead collection and has been known to sell for over £300. With a 1/72 rarity, this Walking Dead Mini POP figure is difficult to get your hands on!
The Zombie Ed Mystery Mini
Shaun of the Dead is an award-winning movie, so it's no surprise that there is a rare POP mini figure to match. The Zombie ED Mystery Mini has a rarity of 1/72 and an approximate value of £200. However, as with any collectible that is scarce in availability, this Horror exclusive continues to increase in value every year.
The Harry Potter Buckbeak Mystery Mini
The Buckbeak Mystery Mini is one of the most popular Minis ever released and is a sought-after addition to any
Harry Potter
fan's collection. It was released exclusively to Hot Topic and has previously sold for over £500!
Han Solo (Flight Outfit)
A renowned depiction of the beloved
Star Wars
character, the Han Solo Mini POP is one of the popular figures on the market, with an estimated value of £530.
Phoenix (Transparent Flames)
A beloved comic book character, Phoenix is one of the longest-standing identities in the Marvel landscape. So, it is perhaps no surprise that the Phoenix (Transparent Flames) POP mini has the highest sale price to date, with a recent price of approximately £720.
Start your Mini POP collection with Toys for a Pound
If you're considering starting your own Mystery Mini collection, there's no better place to start than Toys for a Pound.
We host an extensive range of Funko Mystery Minis, including the most iconic figures from pop culture's largest franchises and limited edition Mini POP characters. Funko has Mystery Minis for every age and interest, so we're confident you'll find characters to suit you!
What's more, we consistently update our stock to offer the most sought-after releases. So, whether you've got your eye on a specific collection or want to add a pop of mystery to your existing Funko Collection, keep checking back to see what gems we have in store.
Searching for more addictive figurines to add to your toybox? Explore our wider range of
figures, dolls, and action figures
, available to order online at Toys for a Pound today!
Related Articles