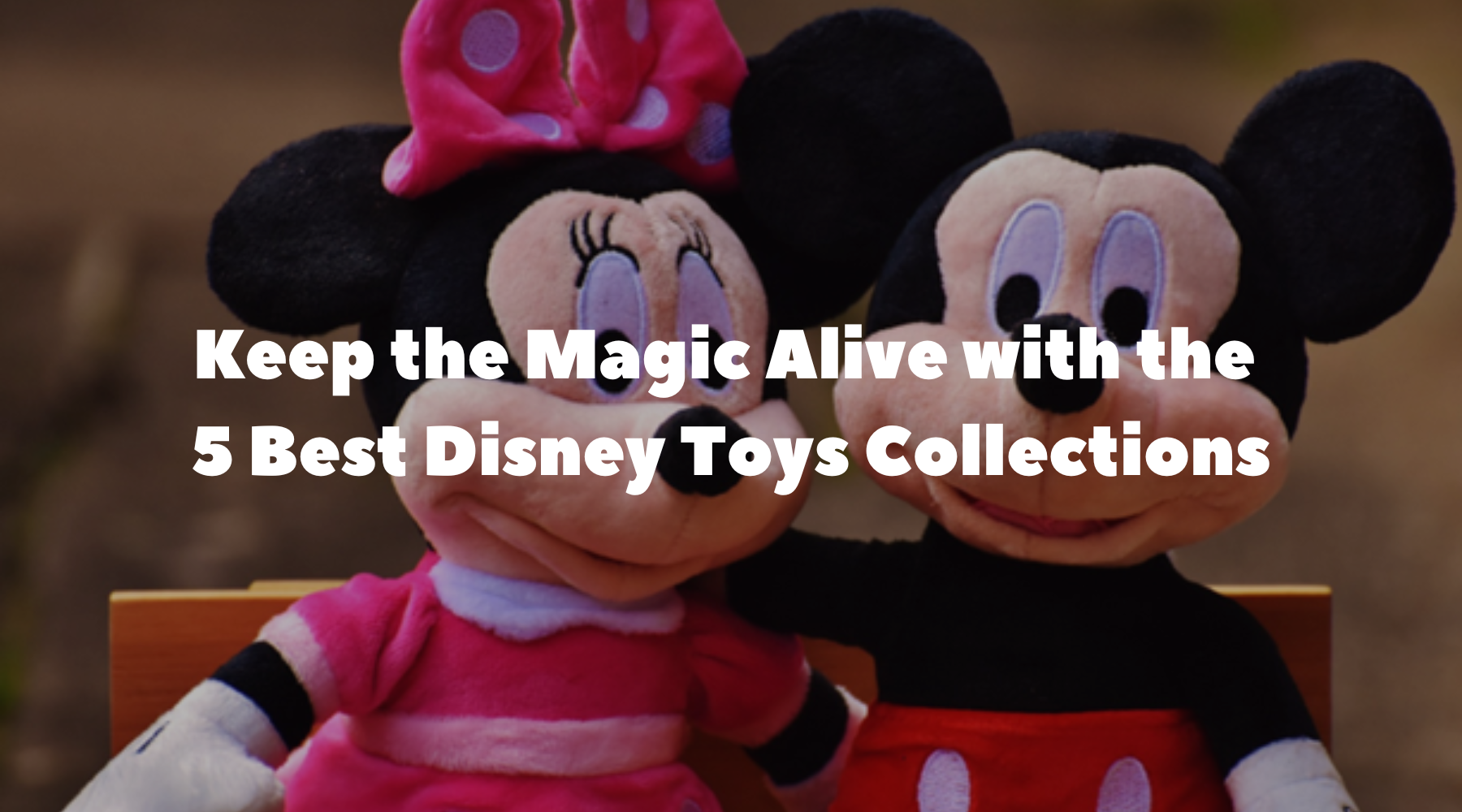 Keep the Magic Alive with the 5 Best Disney Toys Collections
From Peter Pan and Tinker Bell to Elsa, Anna and Olaf, Disney has no shortage of iconic characters, and it's no secret that we all have our favourites.
Every Disney fan can recall the defining movie moment they were captured by the magic, whether it was when Beauty fell in love with the Beast, Moana set sail for adventure, or Simba and Mufasa sat majestically upon Pride Rock.
But the magic doesn't end there. Disney keeps the magic alive long after the final credits roll with enchanting plush toys, figurines and merchandise of their best-loved characters. So, whether you or your little one love Disney princesses or the malevolent yet endearing Disney villains, there's something for everyone.
At Toy for a Pound, we stock a fantastic selection of Disney toys for children, including arts and crafts, figurines, soft plush toys and more. In no particular order, we've covered our favourite Disney characters and why these Disney toys deserve a place in any toy box!
Table of contents
Disney Cars toys
Disney Princess toys
Disney Encanto toys
Toy Story toys
Disney Frozen toys
Shop cheap Disney toys at Toys for a Pound
Disney Cars toys
A hotshot race car who loves stealing the show, Lightning McQueen is first introduced as a talented yet self-centred character who does not need or want the help of others.
However, this rookie race car soon learns there's more to life than winning races, stealing viewers' hearts as he learns great lessons on friendship, loyalty, and compassion.
Disney Pixar Cars 4 in 1 Card Games Pack
Disney Cars toys are a fantastic way to bring home the magic of the movie, allowing your little ones to recreate Lighting McQueen's most ferocious moments on the track and invent new adventures.
Our collection is regularly updated to include the latest Disney toys, from Disney Cars bath toys to card games and figurines, so keep checking back for your favourites!
Disney Princess toys
Without Disney princesses, it's hard to imagine the Walt Disney franchise being where it is today.
Beautiful and enchanting, each Disney princess has an important message to share, and today these beloved characters are considered role models for people of all ages.
Disney Princess See The Story Game Official Funko Games
Mulan shows little girls they can be fierce; Belle teaches that beauty can be found in everyone, while Ariel demonstrates the importance of kindness, bravery, and adventure.
With this in mind, Disney Princess toys are a fantastic way to introduce imagination and magic to your little one's toy box, allowing them to play out their favourite Princess moments and rediscover important values.
Disney Princess Secret Styles Fashion Surprise Jasmine 10pc Doll Playset
Our Disney collection is filled with popular Disney princess toys and games, including card games, doll playsets and collectable figurines. So, whether you're looking for the perfect party bag pleasers for a Disney princess birthday or cheap Disney toys to treat your little one, you'll be spoilt for choice with our magical collection!
Disney Encanto toys
Released in 2021, Encanto tells the uplifting story of Mirabel Madrigal, a Colombian girl born into a magical family where everyone has powers – except her.
Mirabel's sister Luisa has super-strength, Bruno can see into the future, and Antonio can talk to animals.
Whilst Mirabel initially lacks self-belief due to her lack of power, she is eventually revealed as the strength that holds the family together, teaching viewers that you are valued for who you are, not what you can do – and that you don't have to have a special gift to be strong or deserving of love and appreciation.
Disney Encanto Scratch Art Set 3pk
You can discover various Encanto Disney toys at Toys for a Pound, from arts and crafts that spark your little one's creativity to sticker packs, figurines and more.
Toy Story toys
Set in a world where toys come to life, it's no secret that Toy Story is a fan favourite. It has an awesome cast of characters and action-packed storylines, making it one of the best Disney movies for adults and children.
At Toys for a Pound, we stock an impressive selection of Toy Story toys, and we regularly update our stock to ensure we're offering the latest, most sought-after gems.
Disney Pixar Lightyear 12" Soft Plush Toy-Buzz Lightyear
Play a game of snap with your favourite Toy Story characters, including Woody, Jessie and Buzz Lightyear, or play make-believe with Toy Story figurines. Toy Story toys are guaranteed to be a hit for any occasion, whether treating a little one, a teenager, or a full-grown adult!
Disney Frozen toys
A tale of two sisters, Frozen recounts the perilous story of Princess Anna as she undertakes a treacherous journey to find her sister, Queen Elsa, who has inadvertently cast their Kingdom into a never-ending winter.
Released in 2013, Frozen quickly became one of the most popular Disney movies and is celebrated as the highest-grossing Disney film of all time – so it's no surprise that there are Frozen Disney toys to suit.
If you're looking for cheap Disney Frozen toys, our collection won't disappoint. We update our toys to offer everything from Frozen keychains and soft plush toys to stickers that are perfect for the Frozen fans in your life that love arts and crafts.
Disney Frozen Foam Wall Decorations 3pk
Of course, Disney Frozen toys can be expensive, whether you're shopping online or on the high street. However, we're proud to offer cheap Disney toys without compromising quality, allowing you to indulge in top-quality toys without breaking the bank!
Shop cheap Disney toys at Toys for a Pound
Disney toys are a fantastic way to breathe magic into your or your little one's favourite Disney movies. However, whether shopping on the high street or online, Disney toys can be expensive.
At Toys for a Pound, we're proud to stock an impressive selection of Disney toys at great-value prices, and we consistently update our collections to offer fan favourite characters – so keep checking back for yours!
Whether you're searching for party bag fillers, holiday surprises, or Disneyland treats, we're confident there's something for every Disney fan at Toys for a Pound.
Looking for more high-quality toys at low prices? Explore our wider toy collections today, including Funko, Harry Potter and Marvel! 
Related articles
What are Funko POPs and why are they worth collecting?
What are Funko Mystery Minis, and why are they so popular?